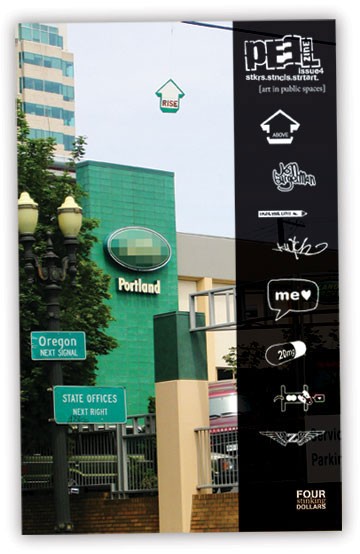 Wholesale & international orders: dave@peelzine.com.
PEELzine4 is IN!
The 4th issue of PEELzine is now available. In this issue: ABOVE, Jon Burgerman, Mike Clark/Color Your City, Klutch, me love, 20mg, The Yellow Dog, Zoltron, StickerThrow04, StickyArt, Public Discourse, Tokyo's Postmodern Sticker Culture, and the top entries in the Sticker Nation/Sticker Robot Sticker Design competition. As always, the issue comes bagged with stickers from the artists in the issue. Special props to ABOVE who hand stenciled a sticker for each and every copy! This issue is bigger and better, with more full color, more interviews, and more art. Issue 3 sold out almost immediately, so the best way to guarantee yourself a copy is to order now!
$5.50 includes postage US orders only.